A&E Cage Co. 62"x62"x79" Walk In Aviary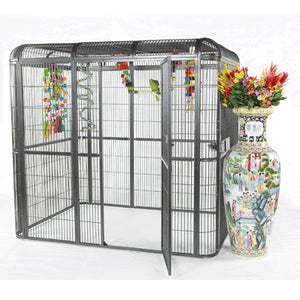 A&E Cage Co. 62"x62"x79" Walk In Aviary
The 62"x62" Walk-In Aviary is ideal for African Greys, Amazons, Pionus, Large Cockatoos, Large Macaws and other same sized birds.
Be sure to improve the maneuverability and easy clean-up of this aviary with the custom-fitted rolling base!
---
Product Highlights:
Bird proof, key-locked front door & feeder door locks
Horizontal and vertical bars side bars front & back for easy climbing and attaching accessories
1 swing out feeder door including 3 stainless steel feeder cups
Non-toxic, durable and safe powder coated finish
---
Summary:
The 62"x62" Walk-in Aviary, designed by A&E Cage Co., is nothing short of statuesque. Owners of this cage clearly love their pets, understand exactly how important a quality enclosure is, and want to give them the best by being able to share time together in the same space. Having a home with plenty of surface area to climb and play is vital to the physical and mental health of birds.
This model was carefully designed to tend to the needs of both your bird and you as the owner. With abundant internal room, one-inch bar spacing, and strong five-millimeter bar gauging, this unit is ideal for medium to large sized species like Greys, Amazons, Cockatoos, Macaws, and similar sized species.
As a bird owner, you will truly appreciate just how easy this cage makes your life. With bird proof key locks on the front door and feeder doors, you won't have to worry about a surprise escape. Feeding time is a breeze with the swivel feeder door that allows you to replace food and water in all three included bowls at once without having to stretch into the enclosure. The elegant black color is made from 100% non-toxic material that has been thoroughly tested for safety.
Note: This cage is not recommended for outdoor use.
---
Key Specifications:

Bar Spacing: 1"
Bar Gauge: 5.0 mm
Cage Weight: 366 lbs.
Internal Dimensions:
62"(W) x 62"(D) x 79"(H)
External Dimensions:
62"(W) x 62"(D) x 79"(H)
Front Door Dimensions:
25"(W) x 69"(H)

Technical Details:

Brand name: A.E. Cages
Warranty: 90 days
Shipping cost: This cage ships freight. Please note that additional shipping costs apply for shipments outside the mainland USA and for freight shipments.
Shipping time:  Freight shipping will get your product to you within 1-2 weeks.
Packages: 3
Feeder doors: 1
Feeder cups: 3 stainless steel cups
Finish: Powder-coating
SKU#: WI6262 Black
Shipping Details:
Allow 2 business days for processing and 1-2 weeks for delivery.
Ships via freight.
---
We Also Recommend