Avian Adventures Grande Dometop Cage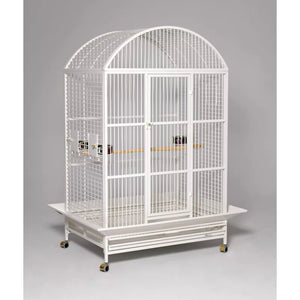 Avian Adventures Grande Dometop Cage
Bird Species:
This model is ideal for Macaws, Amazons, African Greys, Cockatoos or any large parrot (and great for Sugar Gliders & Reptiles too)
---
Product Highlights:
Safe, non-toxic, heavily tested powder-coat finish is proven not to harm your bird.
Two ultra classy color options, including textured Pearl White and textured Platinum.
Tools are not required to assemble this ultra-sturdy unit.
Solid-backed feeder doors specifically designed to prevent thrown bird feed from leaving the cage during feeding.
Patented bird proof locks included on each feeder door & the main front access door. (shown below)
Convenient feeder doors open so that you can change your bird's water and food without going inside the cage.
Included 304-grade stainless steel dishwasher safe bowls.
With the large front access door, your bird is less likely to be injured while going in and out.
Two different angles of bars, vertical and horizontal, allowing for a fun climbing environment for your pet.
Slide-out metal grate is a great feature for quick and easy cleaning.
Specially designed so that your bird cannot escape when grate has been removed for cleaning.
Slide-out metal tray allows for fast and simple waste removal.
The included seed skirt can be easily removed without tools.
Gliding, non-marking, convenient casters for easy cage movement when you want to change your bird's scenery.
**NOTE**

:
 As of Dec 2018, all Avian Adventures cages are shipped with a wood dowel perch instead of the yellow cow wood perch shown in the product images. We will update the photos to reflect the change once we have them.
---
Summary:
You are looking at one of the most amazing bird cages available today, ideal for medium to large sized birds of many different species. Packed with features that you and your pet are sure to enjoy, you can't go wrong with the Avian Adventures Grande Dometop. First, let's talk about your bird. Your flying friend will love the design of this enclosure, specifically detailed to allow for ultra comfort and extra entertainment. Two sides of the cage have vertically aligned rods and two sides have horizontally aligned rods so that your bird has a variety of climbing options available while both inside and outside the cage. The dometop has also been proved as an excellent play surface for birds who won't fly off if given the chance.
Your needs are thoroughly thought of with this dreamy cage as well. Aesthetics and functionality are on full display with a variety of features that make this enclosure stand out. You'll have three beautiful color choices to choose from, including pearl white, platinum, and ruby red finishes. The cage is built from top-quality material and the design has been masterfully crafted to be ultra sturdy. You will truly appreciate the convenience that this cage offers above many others, including removable metal grates and trays for easy cleaning. If you've owned your bird for long, you know how inconvenient a poorly designed cage can be to clean; you'll fall in love with how easy this cage will make your life.
Exposing your bird to a variety of environments is important for their emotional health. Moving this unit couldn't be easier, with the super easy, non-marking, gliding casters on each leg of the cage. You will be able to change your bird's environment with ease.
---
Key Specifications:

Bar Spacing: 1"
Bar Gauge: 1/4"
Cage Weight: 223 lbs
Internal Dimensions:
42"(W) x 30"(D) x 60"(H)
External Dimensions:
42"(W) x 30"(D) x 73"(H)

Technical Details:

Brand name: Avian Adventures
Warranty: 1 year
Shipping cost: Free freight shipping within mainland USA. Additional shipping costs will apply for shipments outside mainland USA.
Shipping time: Freight shipping will generally get your product to you in 1-2 weeks.
Packages: 2
Slide-out grate: 1
Slide-out tray: 1
Feeder doors: 3
Breeder doors: 1
Perches: 1
Finish: Powder-coating
SKU: AVD1004
---
Available in these beautiful colors:
| | |
| --- | --- |
| | |
| Pearl White | Platinum |
---
Shipping Details:
Allow 2 business days for processing.
Free shipping! Ships freight, allow 1-2 weeks for delivery.
---
We Also Recommend