4032DT - 38-40" (Width) x 30-32" (Depth) Dometop Cage Cover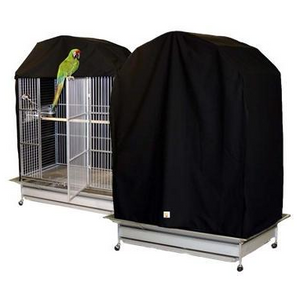 4032DT - 38-40" (Width) x 30-32" (Depth) Dometop Cage Cover
Temporary interruption:
We regret to inform you we will not be shipping bird cage covers from September 8, 2023, to September 22, 2023. We apologize for any inconvenience this may cause and appreciate your patience. We will resume our regular shipment schedule on September 23, 2023. Thank you for your continued trust and support.
Product Highlights:
Specially designed for dometop bird and parrot cages measuring 38 to 40" wide and 30 to 32" deep.
The length of this cover is 64" from top to bottom.
Revolutionary poly-cotton mix material was designed to be ultra sturdy and yet remarkably thin.
The poly-cotton mix has proven to be 100% non-toxic material.
Material is completely washing machine safe for extremely easy cleaning.
Provide your bird with the natural darkness it need for restful night's sleep.
Storage is made easy with the convenient and sturdy hanging hook included in the packaging.
Special poly-cotton mixture allows oxygen to freely breath in, while simultaneously blocking disturbing gusts.
The front section opens and folds over the top of the cage in a patent-pending design that allows you to place or remove your bird without the need to removing the entire cover.
Carefully placed, sturdy Velcro adorns the cover to allow you to tighten or loosen the cover as necessary.
Each cover subtly features the classy 'Cozzzy Covers' embroidered logo.
The 4032DT fits the following popular dometop cage models:
HQ 9004030
Kings 9004030
Kings ELT 4032 (Economy Line Large Triple Top)
Kings 306
Kings 4230 (European Style)
All other dometop bird cages 38-40 inches wide and 30-32 inches deep
Shipping Details:
Ships in 1-2 business days
Free Shipping! Usually via FedEx.
---
We Also Recommend