A&E Cage Co. 32"x21" Flight Cage & Stand with Double Front Door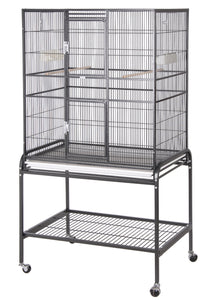 A&E Cage Co. 32"x21" Flight Cage & Stand with Double Front Door
The 32"x21" Flight Cage & Stand with Double Front Door is ideal for Finches, Canaries, Parakeets, Cockatiels, and Small Conures.
Economy flight cage with stand featuring two large front doors for ease of access
---
Product Highlights:
A large, bird-safe front door lock on each door

Two feeder stations with plastic feeder cups & slide-up doors
A stand with a bottom shelf for storage
Two wood perches
2mm vertical bars
Slide-out grill & white plastic waste tray
Four easy-rolling casters
Wrought iron construction with a non-toxic powder-coated finish
---
Summary:
Are you looking for a well-suited cage for your feathered friend?

Birds can make excellent companions, so the mixed emotions in bringing them home are understandable. One of the things you would look at when caring for a pet bird is finding high-quality cages.

A&E Cage Co. 32"x21" Flight Cage & Stand with Double Front Door features sturdy bars, food access doors, and secured door locks. You can keep your bird happy with this easy-to-assemble cage, with two perches providing your pet a place to rest and two feeder cups for the bird's food and water supply.

Aside from the stand, this flight cage has four easy-rolling casters to make it more convenient if you want to move it around. The bottom shelf comes in handy for extra storage, and the slide-out grill and plastic waste tray make cleaning the cage a breeze. Additionally, this flight cage is spacious so your bird will have plenty of room to enjoy its surroundings.

---
Key Specifications:

Bar Spacing:

 

1/2"
Bar Gauge:

 2

 mm
Cage Weight:

 

55 lbs.
Interior Height: 35"

External Dimensions:
32"(W) x 21"(D) x 63"(H)

Technical Details:

Brand name:

 

A.E. Cages
Warranty:

 

90 days
Shipping cost:

 

Free standard shipping within the mainland USA. Additional shipping costs will apply for shipments outside the mainland USA and for freight shipments.
Shipping time:

 

Typically standard shipping will get your product to you within a week.
Slide-out grate:

 

1
Slide-out tray:

 

1
Feeder doors:

 

2
Feeder cups:

 

2
Breeder doors:

 

1
Perches:

 

2
Rolling casters: 4
Finish:

 

Powder-coating
SKU#:

13221 HQ
---
We Also Recommend