2422PT - 22-24" (Width) x 20-24" (Depth) Playtop Cage Cover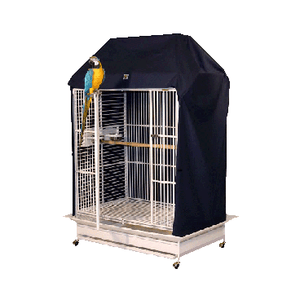 2422PT - 22-24" (Width) x 20-24" (Depth) Playtop Cage Cover
Product Highlights:
Perfectly designed for playtop bird and parrot cages 22-24" wide and 20-24" deep.
The length of this cover is 52" from top to bottom.
Packaging includes a well-secured hook for conveniently storing in your closet when not on the cage.
The covers are crafted from a new poly-cotton mixture that's thin, yet shockingly tough.
The poly-cotton mix is well-known to be completely non-toxic for your bird.
The poly-cotton mixture is completely washing machine safe for quick and easy cleaning.
This cover creates the natural darkness your bird needs to sleep well, be happy, and stay healthy.
The poly-cotton mixture seamlessly lets oxygen flow in while keeping cool breezes out.
The cover's front section opens to fold over the top of the cage, allowing you to place or remove your bird without needing to take the cover off the cage.
Velcro specially placed in the cover allows you to tighten or loosen the cover as necessary.
Each cover elegantly features the beautiful 'Cozzzy Covers' embroidered logo.
The 2422PT fits the following popular playtop cage models:
HQ 8002422
Kings Cages European Style Model 134
All other playtop bird cages 22-24 inches wide and 20-24 inches deep
Shipping Details:
Allow 1-2 business days for processing.
Free Shipping! Usually via FedEx.
---
We Also Recommend