Avian Adventures Multi Vista Breeder Cage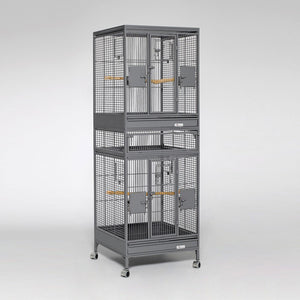 Avian Adventures Multi Vista Breeder Cage
Bird Species:
This model is ideal for Finches, Small-Medium Parakeets, Canaries, Cockatiels, Lovebirds, Conures, Senegals, Quakers (and great for Sugar Gliders & Reptiles too)
---
Product Highlights:
Non-toxic, thoroughly tested powder coating is proven safe for your pet!
Platinum or Pearl White color features a textured finish.
This stunningly versatile cage lets you remove the dividing panel, tray and grate to make one large vertical cage.
Ultra easy assembly doesn't require screws, bolts, or any tools!
Change your bird's food and water with ease using the multiple swing-out side feeder doors.
Included dishwasher safe genuine 304-grade stainless steel feeding bowls.
Large entry doors are designed with your bird's safety in mind to allow for easy entry and exit.
Included perches made from round wood dowels.
Features a convenient breeder door for simple attachment of a breeder nesting box per section.
Each section is designed with horizontal and vertical bars to create an entertaining climbing enclosure for your pets.
Each section includes a slide-out metal grate and tray for care-free cleaning and waste removal.
Middle panel section between the top and bottom cage sections provides convenient storage space for food and supplies.
Thanks to expert design and measurement, birds cannot escape when the grate has been removed for cleaning.
Cage glides on easy rolling non-marking casters for simple movement whenever and wherever you desire.
**NOTE**

:
 As of Dec 2018, all Avian Adventures cages are shipped with a wood dowel perch instead of the yellow cow wood perch shown in the product images. We will update the photos to reflect the change once we have them.
---
Summary:
Sitting at nearly six feet tall, the extraordinarily majestic and functional Multi Vista Breeder Cage by Avian Adventures perfectly suits the needs of breeders and owners of multiple birds. If you are short on space and need a cage for multiple birds, this cost-effective cage will satisfy both of those requirements and look great at the same time! You will find nearly every feature you can imagine has been expertly crafted into this beautiful unit, including a host of attributes that enhance visual appreciation, functionality, and stability.
Construction made from premium-quality materials in every detail has gifted this cage with two critical features for bird owners - Immaculate looks and unwavering stability. While buying a bird enclosure can often result in the "cheapening" of the design of a room, the Multi Vista is a towering piece of quality and elegance that will enhance the style of your home, not take away from it. Two beautiful and neutral color options are available to match your current furniture, including textured platinum and textured pearl white powder-coating made from completely non-toxic ingredients.
Convenience is at an all-time high with this model. You'll genuinely appreciate the included slide-out metal grates and trays for easy cleaning and waste removal. Included stainless steel bowls are completely dishwasher safe. The feeder doors open independently to allow for easy refills and also have hard backs attached to reduce spillage during messy feeding times.
Your birds will fall in love with this cage just as much as you will, with a host of goodies to keep them entertained, relaxed, and in a positive emotional state. Each section of the breeder enclosure includes its own round wood dowel perch and a combination of vertical and horizontal bars that are perfect for climbing. The extra large entryway allows for easy entry and exit without the need to worry about injury. Invest in this amazing new home for your birds today!
---
Key Specifications:

Bar Spacing: 1/2"
Bar Gauge: 1/8"
Cage Weight: 135 lbs
Internal Dimensions:
24"(W) x 24"(D) x 24"(H) (per section)
External Dimensions:
24"(W) x 24"(D) x 71"(H) (both
sections including base)

Technical Details:

Brand name: Avian Adventures
Warranty: 1 year
Shipping cost: Free standard shipping within mainland USA. Additional shipping costs will apply for shipments outside mainland USA.
Shipping time: Typically standard shipping will get your product to you in 1 week.
Packages: 3
Slide-out grate: 2 (1 per section)
Slide-out tray: 2 (1 per section)
Feeder doors: 4 (2 per section)
Breeder doors: 2 (1 per section)
Feeder bowls: 4 (2 per section)
Perches: 2 (1 per section)
Finish: Powder-coating
SKU: AVD1014
---
Available in these beautiful colors:
| | |
| --- | --- |
| | |
| Platinum | Pearl White |
---
Shipping Details:
Allow 2 business days for processing and 1 week for delivery.
Ships for FREE, generally via FedEx or UPS.
---
We Also Recommend