A&E Cage Co. 40"x40" Macaw Flight Cage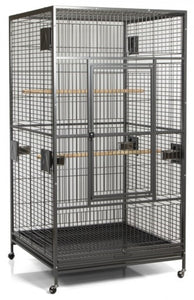 A&E Cage Co. 40"x40" Macaw Flight Cage
The 40"x40" Macaw Flight Cage is ideal for Macaws and other same-sized birds.
---
Product Highlights:
• Bird-proof front door and feeder doors
• Horizontal side bars, vertical bars front & back
• Front door safety latch
• 4 swing-down feeder doors
• 4 stainless steel feeder cups & 2 wood perches
• 2 breeder doors
• Large front doors for easy access
• Slide-out grill & tray for easy cleaning
• 4 easy rolling casters
• Non-toxic, durable, and safe powder-coated finish
---
Summary:
This open-top, elegant-styled flight cage is best if you want your bird to have plenty of room to fly around. Its size and enclosure suit larger birds with long tails and wide wingspans like a macaw.

Aside from allowing your bird to fly freely without damaging their wing feathers or tail, the cage is also durable with sturdy bars, making it your best option for a heavy chewer like a macaw. A space that gives your feathered friend the freedom of movement is healthy since it will encourage your bird to move or fly.

Furthermore, the drop-down drawbridge-style door is one of the cage's remarkable features. Not to mention that the cage includes stainless steel feeder cups, a slide-out grill and tray, providing easy maintenance. It even has a bottom shelf making food, cleaning supplies, and cage cover storage more convenient.

---
Key Specifications:

Bar Spacing: 1"
Assembled Cage Weight: Approximately 198 lbs.
External Dimensions:
40"(W) x 40"(D) x 76"(H)

Technical Details:

Brand name: A.E. Cages
Warranty: 90 days
Shipping cost: Free standard shipping within the mainland USA. Additional shipping costs will apply for freight and shipments outside the mainland USA.
Shipping time: Typically standard shipping will get your product to you within a week.
Packages: 2
Slide-out grate: 1
Slide-out tray: 1
Feeder doors: 4
Feeder cups: 4
Breeder doors: 2
Perches: 2
Finish: Powder-coating
SKU#: 4040FL
---
Available in these beautiful colors:
| | | | |
| --- | --- | --- | --- |
| | | | |
| | Platinum | Black | |
---
Shipping Details:
Allow 3 days for processing.
Ships freight.
---
We Also Recommend