Prevue Hendryx Silverado Macaw Bird Cage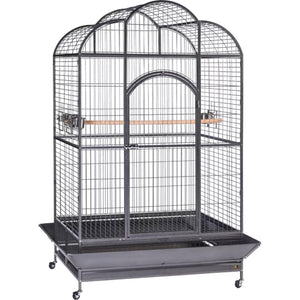 Prevue Hendryx Silverado Macaw Bird Cage
The Prevue Hendryx Silverado Macaw Bird Cage is ideal for Cockatoos (large), Macaws, Toucans.
---
Product Highlights:
Large front entry door with secure lock
Securely attached feeder cup design - no more removing and throwing feeder cups around for your bird!
Slide-out metal grate and metal debris tray for

 

quick and easy cleaning and waste removal
Easy assembly!

 

Slip-in mesh panel construction using bird-proof flathead hex bolts. Though you'll need a friend's help due to the size of this cage :)
Easy glide non-marking casters allow for convenient movement to and from any room in your house
---
Summary:
Provide your beloved macaw with the beautiful home it deserves! The Silverado Macaw Bird Cage by Prevue Hendryx is the brand's largest option of its kind and features a spacious dometop design which leaves plenty of room for even the biggest parrots.
Not to mention the flathead bolt cage assembly even the smartest bird cannot undo. It keeps birds in and predator pets out!
Additional features include an easy-to-assemble slip-in mesh for optimal cleaning, pull-out bottom grille and drawer, food access doors, rounded corner seed guards, and a sturdy cage stand base with easy-rolling casters. The cage also includes three sizable stainless steel non-tip bowls and a hardwood perch.
The enclosure accommodates up to three birds comfortably and best suits Macaw, African Grey, Amazon, Cockatoo, Pionus, Caique and Toucan species. The cage does not come with a divider or carry handle; however, the cage stand is included.
Gray with a silvery finish, add this attractive, eco-friendly option to your home as your bird's new favorite space. As Prevue Hendryx is the oldest and largest pet cage and accessory manufacturer in the United States, you know you're purchasing a quality option both you and your birds will enjoy!
---
Key Specifications:

Bar Spacing:

 1 3/8

"
Perch Diameter:

 1.125

" D
Cage Weight:

 140.7

 lbs
Internal Dimensions:
35.5"(W) x 45.5"(D) x 63"(H)
External Dimensions:
44.75"(W) x 54.75"(D) x 78.25"(H)
Color:

 Gray Hammertone Finish

 

Technical Details:

Brand name:

 Prevue Hendryx

Warranty:

 90 days

Shipping cost:

 

Free standard shipping within mainland USA. Additional shipping costs will apply for shipments outside mainland USA.
Shipping time:

 

Typically standard shipping will get your product to you within a week.
Packages:

 3

Slide-out grate:

 

1
Slide-out tray:

 

1
Feeder cups:

 3

Perches:

 1

SKU:

 PVP1053
---
Shipping Details:
This product ships for free!
Allow 2 business days for processing.
---
We Also Recommend