A&E Cage Co. 36"x28" Majestic Play Top Bird Cage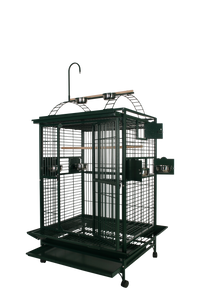 A&E Cage Co. 36"x28" Majestic Play Top Bird Cage
The 36"x28" Majestic Play Top Cage with 1" Bar Spacing is ideal for Mini Macaws, Small Cockatoos, African Greys, Amazons.
---
Product Highlights:
Bird proof front door & feeder door locks
Play top with 2 ladders, perch, & toy hook
Horizontal side bars, vertical bars front & back
Front door safety latch
4 swing out feeder doors
4 stainless steel feeder cups & perch
Large front door for easy access
Removable seed catcher
Slide-out tray underneath play top keeping cage mess free
Slide-out grill & tray for easy cleaning
Non-toxic, durable and safe powder coated finish
---
Summary:
To be Majestic is to exhibit power, authority, or dignity. Majesty is a mark of royalty, and the Majestic Play Top Cage from Atlantic Elegance displays nothing short of royal prowess. With stunning beauty shining from every inch of its towering presence, this bird enclosure is packed with every feature that you and your best feathered friend desire. Simply put, your bird will thank you for making such a great investment in their life, their health, and their future.
Bird experts agree, spending plenty of time outside of their enclosure is vital to your birds mental and physical health. That is why this amazing cage has been specifically designed as a play palace. The enormous entertainment center affixed to the top of the unit is perfect for extended fun times, with double curved ladders, feeding stations, and a toy hook to keep your bird happy. You'll also appreciate that the play top has its very own slide-out tray to allow for easy waste removal without droppings getting inside the cage.
While inside the cage, your bird will still have plenty to do and ample space to live in. Two sides of the cage were specifically built with horizontally facing bars to give them plenty to climb on, and the included perch gives them a great spot to relax. There are also four separately opening feeder doors that let you quickly and easily replace their food without having to contort into the enclosure. The very bottom of the cage also has a slide out tray and a slide out grate to make cleaning times a breeze. 
This cage fits perfectly with the 3628PT Cage Cover as well!
Key Specifications:

Bar Spacing: 1"
Bar Gauge: 5.0 mm
Cage Weight: 144 lbs.
Internal Dimensions:
36"(W) x 28"(D) x 38"(H)
External Dimensions:
36"(W) x 28"(D) x 66"(H)

Technical Details:

Brand name: A.E. Cages
Warranty: 90 days
Shipping cost: This cage ships freight. Please note that additional shipping costs apply for shipments outside the mainland USA and for freight shipments.
Shipping time: Generally, freight orders placed with us will leave the warehouse within 4-5 business days. Unless there are some delays in shipment, you can expect to receive your order within one to two weeks.
Packages: 2
Slide-out grate: 1
Slide-out tray: 1
Feeder doors: 4
Feeder cups: 6 (2 in the playpen)
Breeder doors: 0
Perches: 1
Finish: Powder-coating
SKU#: 8003628
---
Available in these beautiful colors:
| | | | |
| --- | --- | --- | --- |
| | | | |
| Green | Platinum | Black | White |
---
Shipping Details:
Allow 2 days for processing.
Ships Freight - Allow 1-2 weeks for delivery.
Extra charges apply for freight shipments.
---
We Also Recommend