A&E Cage Co. 36"x28" Stainless Steel Majestic Dome Top Bird Cage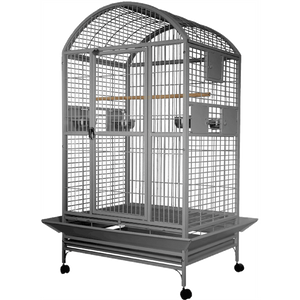 A&E Cage Co. 36"x28" Stainless Steel Majestic Dome Top Bird Cage
The 36"x28" Majestic Dome Top Cage in Stainless Steel is ideal for Mini Macaws, Small Cockatoos, African Greys, Amazons.
---
Product Highlights:
304 Medical Grade Stainless Steel is tested safe and completely non-toxic to your bird!
Large Front door for easy access.
Bird proof front door and feeder door locks.
Breeder door for breeder box attachment.
2 wood perches and 4 feeder stations.
4 Stainless Steel feeder cups.
Features vertical bars on the front and back, and horizontal bars on the sides.
Features a slide-out grill and tray for quick and easy waste removal.
Cage sits on easy-glide non-marking casters for simple movement from room to room.
Removable seed catcher.
---
Summary:
The Stainless Steel Majestic Dome Top Cage is among the most elite enclosures that we carry. Built from 304-grade medical quality stainless steel, this model is built to last. You and your pet will delight in every feature that has been carefully crafted into every inch of this masterpiece. Internally measuring over four feet high, three feet wide, and over two feet deep, the massive dimensions make this an amazing living environment for a medium to large size bird or multiple birds. The five-millimeter ultra-durable steel bars are built to withstand the test of time and take a beating from even the most playful of birds.
The benefits of stainless steel are well known around the world. It was the perfect choice for birds as it is completely non-toxic and tested to be safe for them to be around for prolonged periods. It is also extremely easy to clean, with easy wipe downs and the ability to handle rigorous pressure washing for deep cleans. While other bird keepers may be forced to purchase several cages over the life of their pet, by investing in this top-quality model you could actually save money over time by avoiding costly replacements.
Every detail has been carefully considered in the Majestic. The beautifully shaped dome top is perfect for climbing during play times outside of the enclosure. While inside, your bird will appreciate the variety of horizontally and vertically oriented bars for climbing. There are also two perches, four complete feeder stations with cups and independently opening doors, and a removable seed catcher included. Cleaning time gets even easier by utilizing the slide-out grate and tray that provide for near effort free waste removal. Your bird will be kept safe and sound thanks to the bird proof locking mechanisms attached to the extra large front entry door and every feeder door.
---
Key Specifications:

Bar Spacing: 1"
Bar Gauge: 5.0 mm
Cage weight: 144 lbs
Internal Dimensions:
36"(W) x 28"(D) x 50"(H)
External Dimensions:
36"(W) x 28"(D) x 65"(H)

*Included seed skirt adds
approximately 4" to each side

Technical Details:

Brand name: A.E. Cages
Warranty: 90 days
Shipping cost: This cage ships freight. Please note that additional shipping costs apply for shipments outside the mainland USA and for freight shipments.
Shipping time: Generally, freight orders placed with us will leave the warehouse within 4-5 business days. Unless there are some delays in shipment, you can expect to receive your order within one to two weeks.
Packages: 2
Slide-out grate: 1
Slide-out tray: 1
Feeder doors: 4
Feeder cups: 4
Breeder doors: 1
Perches: 2
Finish: 304 Medical Grade Stainless Steel
SKU#: 9003628 Stainless Steel
---
Shipping Details:
Allow 2 days for processing.
Ships Freight. Please allow 1-2 weeks for delivery.
Extra charges apply for freight shipments.
---
We Also Recommend