A&E Cage Co. 32"x23" Refuge Dome Top Bird Cage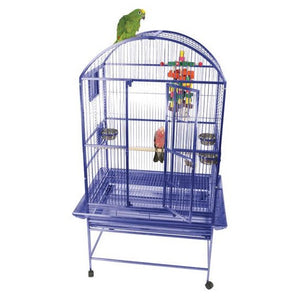 A&E Cage Co. 32"x23" Refuge Dome Top Bird Cage
The 32"x23" Refuge Dome Top Cage with 2/3" Bar Spacing is ideal for Caiques, Cockatiels, Conures, Jardines, Lories, Medium-Large Parakeets, Pionus, and Quakers.
---
Product Highlights:
Bird proof front door & feeder door locks
Horizontal side bars, vertical bars front & back
3 swing out feeder doors & additional breeder box door
3 stainless steel feeder cups & 1 perch
Large front door for easy access
Removable seed catcher
Slide-out grill & tray for easy cleaning
4 easy rolling casters
Non-toxic, durable and safe powder coated finish
---
Summary:
With five-eighths inch bar spacing and durable four-millimeter bar gauging, the Refuge Dome Top Cage is a perfect choice for a wide range of popular birds, including small, medium, and some larger sized species. Some of the most popular species that will feel right at home include African Greys, Macaws, Cockatiels, Parakeets, and more! The domed top design of this unit provides for extra internal living quarters that other models simply cannot provide. It also acts as an excellent climbing surface during the all-important time that you allow your feathered friend out of the enclosure to explore. This truly is a versatile and accommodating cage that your pet will love.
As the caretaker of such a beautiful animal, it is also important for the enclosure that you choose to conveniently address your needs. Cleaning up after your pet shouldn't be your entire life. This model is loaded with features to address the normally painstaking process. With a slide-out metal grill, washing the cage couldn't be easier. The slide-out metal tray at the bottom of the unit provides a means for nearly effortless waste removal. And the removable seed catcher helps limit unnecessary messes that your bird may try and create during feeding times. The extra large front entry door not only provides for safe transportation in and out of the cage for your pet, but it allows you to easily reach inside the enclosure to clean up spots as needed.
Your feathered friend will thoroughly enjoy climbing on the two sides of horizontally oriented bars. They create a ladder-like surface that is perfect for them! They will also appreciate how easily you can expose them to completely new environments by utilizing the easy-rolling casters that are attached to each leg. You can easily roll the cage anywhere you wish! You will get to choose from a perfect range of elegant color choices, including blue, green, sandstone, platinum, black, white, and burgundy. All colors are applied using a top-quality and completely non-toxic powder coating that has been proven safe for birds. 
Key Specifications:

Bar Spacing: 2/3"
Bar Gauge: 4mm
Internal Dimensions:
32"(W) x 23"(D) x 40"(H)
External Dimensions:
32"(W) x 23"(D) x 63"(H)
Cage Weight: 91 lbs.

Technical Details:

Brand name: A.E. Cages
Warranty: 90 days
Shipping cost: Free shipping for ground orders within the mainland USA. Please note that additional shipping costs apply for shipments outside the mainland USA and for freight shipments.
Shipping time: Typically standard shipping will get your product to you within a week.
Packages: 2
Slide-out grate: 1
Slide-out tray: 1
Feeder doors: 3
Feeder cups: 3
Breeder doors: 1
Perches: 1
Finish: Powder-coating
SKU#: 9003223
---
Available in these beautiful colors:
| | | |
| --- | --- | --- |
| | | |
| Black | Pure White | Burgundy |
---
Shipping Details:
Allow 2 days for processing.
Ships UPS.
---
We Also Recommend