A&E Cage Co. 32"x23" Refuge Play Top Bird Cage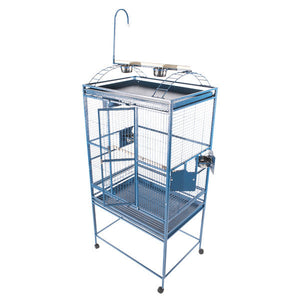 A&E Cage Co. 32"x23" Refuge Play Top Bird Cage
The 32"x23" Refuge Play Top Cage with 5/8" Bar Spacing is ideal for Caiques, Cockatiels, Conures, Jardines, Lories, Medium-Large Parakeets, Pionus, and Quakers.
---
Product Highlights:
Bird proof front door & feeder door locks
Play top with 2 ladders, perch, & toy hook
Horizontal side bars, vertical bars front & back
Front door safety latch
3 swing out feeder doors
3 stainless steel feeder cups & perch
Large front door for easy access
Removable seed catcher
Slide-out tray underneath play top keeping cage mess free
Slide-out grill & tray for easy cleaning
Non-toxic, durable and safe powder coated finish
---
Summary:
The Refuge Play Top cage is one of our most popular styles, with good reasons to back up its popularity. It is the perfect size for a wide range of birds, with ample internal dimensions and five-eighths bar spacing, many species love calling this cage their home. The features and benefits of this model paired with a fantastic sale price make this an option worth careful consideration for anyone in the market for a new pet enclosure. There is no doubt that your wallet and your pet will both thank you for choosing the Refuge.
The most notable feature of this beautiful enclosure is definitely the large playground affixed to the top. Bird experts and enthusiasts agree that giving your feathered friend lots of time outside of their enclosure is vital to their physical and emotional health. While there are separate playstations available for sale, purchasing a well-designed model like this can save you money and save space in your home.
The Refuge play top includes two curved ladder-like like bar sets which are joined by a bar that includes two feeder stations. You'll also be able to provide your pet with an assortment of hanging toys that you can change out whenever you please by using the included toy hanger. The top also conveniently features its very own slide-out tray, which prevents droppings from entering the main section of the cage and makes for easy waste removal.
The inside of the cage also provides for plenty of living space. Your pet will enjoy climbing on the two sides of horizontally oriented rods, which act like ladders for easy use. You will appreciate the convenience of an extra large front entry door for easy placement and removal of your pet whenever you please. Also, the feeder doors each individually open to allow for easy food refills without having to contort your arms inside the cage. Each door is complete with a bird-proof lock to keep your feathered friend safe and sound.
---
Key Specifications:

Bar Spacing: 5/8"
Bar Gauge: 4.0 mm
Cage Weight: 95 lbs.
Internal Dimensions:
32"(W) x 23"(D) x 30"(H)
External Dimensions:
32"(W) x 23"(D) x 66"(H)

Technical Details:

Brand name: A.E. Cages
Warranty: 90 days
Shipping cost: Free standard shipping within mainland USA. Additional shipping costs will apply for shipments outside mainland USA.
Shipping time: Typically standard shipping will get your product to you within a week.
Packages: 2
Slide-out grate: 1
Slide-out tray: 1
Feeder doors: 3
Feeder cups: 3
Breeder doors: 0
Perches: 1
Finish: Powder-coating
SKU#: 8003223
---
Available in these beautiful colors:
| | | |
| --- | --- | --- |
| | | |
| Black | Pure White | Burgundy |
---
Shipping Details:
Allow 2 days for processing.
Ships UPS.
---
We Also Recommend