2018PT - 18-20" (Width) x 16-18" (Depth) Playtop Cage Cover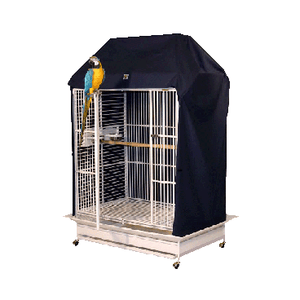 2018PT - 18-20" (Width) x 16-18" (Depth) Playtop Cage Cover
Product Highlights:
The cover comes in special packaging with a hook for storing in any closet when not in use.
Top-quality, stunningly thin and durable poly-cotton mixture material.
The covers are made of a new poly-cotton mixture that's thin, yet surprisingly tough.
The poly-cotton mix is completely non-toxic so that your bird will be kept safe.
Convenience is at its prime with this completely washing machine safe poly-cotton material.
The extra dark cover creates a natural darkness that your bird needs to get restful sleep and stay healthy.
Poly-cotton is the perfect material as it allows oxygen in, but keeps cool breezes out.
The front section of the cover opens and folds over the top of the cage, allowing you to easily place or remove your bird without needing to remove the cover completely.
Sturdy velcro adorns the cover and allows you to tighten or loosen the cover as necessary.
Each cover features the elegantly beautiful 'Cozzzy Covers' embroidered logo.
Ideal for playtop bird and parrot cages that are 18-20" wide and 16-18" deep.
The length of this cover is 44" from top to bottom.
The 2018PT fits the following popular playtop cage models:
Avian Adventures Nina Playtop
AE 702
AE 3-2217
HQ 702
HQ 8001818
HQ 3-2217
Kings ELP 1818 (Economy Line Play Pen for Small Birds)
All other playtop bird cages 18-20 inches wide and 16-18 inches deep
Shipping Details:
Please allow 1-2 business days to process and ship the order.
Free Shipping!
---
We Also Recommend