4836DT - 46-48" (Width) x 34-36" (Depth) Dometop Cage Cover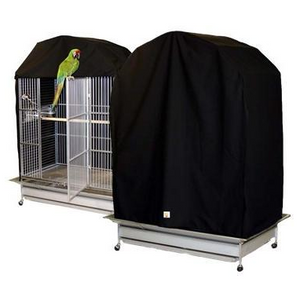 4836DT - 46-48" (Width) x 34-36" (Depth) Dometop Cage Cover
Product Highlights:
Perfectly fitted for dometop bird and parrot cages measuring 46 to 48" wide and 34 to 36" deep.
The length of this cover is 76" from top to bottom.
This cover is crafted from a new poly-cotton mixture that's thin, yet surprisingly tough.
The poly-cotton mix is thoroughly tested and is completely non-toxic.
Cleaning has never been easier than with this 100% washing machine friendly material.
The cleverly designed packaging has a built in sturdy hook for hanging the cover when not in use.
Covers illicit the natural dark conditions that bird's need to get restful sleep and stay healthy.
The special material allows oxygen to freely flow in while keeping cold wind gusts out.
The front section opens and folds over the top of the cage in a patent-pending design that allows your bird to be placed or removed without needing to remove the cover.
Sturdy velcro has been carefully attached to allow size adjustments with ease.
Each cover elegantly and subtly displays the beautiful 'Cozzzy Covers' embroidered logo.
The 4836DT fits the following popular dometop cage models:
HQ 9004836
Kings 506 (European Style Extra Large Cage)
Kings 506SS (European Style Stainless Steel Extra Large Cage)
Kings 507 (European Style Breeder and Exhibition Cage)
All other dometop bird cages 46-48 inches wide and 34-36 inches deep
Shipping Details:
Ships in 1-2 business days.
Free Shipping! Usually via FedEx.
---
We Also Recommend