6432MD - 64" (Width) x 32" (Depth) Macaw Double Cage Cover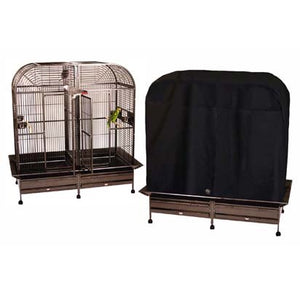 6432MD - 64" (Width) x 32" (Depth) Macaw Double Cage Cover
Product Highlights:
Meticulously measured to perfectly fit large bird and parrot cages up to 64" wide and 32" deep.
The length of this cover is 60" from top to bottom.
Revolutionary poly-cotton mixture keeps the cover thin and light-weight while remaining ultra-durable.
Made from 100% non-toxic materials.
The poly-cotton mixture is completely washing machine safe to make cleaning times easy and convenient.
Give your bird the natural darkness they need to sleep well, stay happy, and maintain optimal health.
Oxygen freely flows into the cage while wind gusts are kept out thanks to the special poly-cotton material.
The front section opens and folds over the top of the cage, allowing effortless placement and removal of your bird.
Durable velcro lining which allows you to tighten or loosen the cover as necessary.
Clever packaging includes a secure hook so that you can hang your cover in any closet when not in use.
Each cover subtly features the elegant 'Cozzzy Covers' embroidered logo.
The 6432MD fits the following popular side-by-side cage models:
AE 6432 (Double Macaw Cage)

HQ 6432 (Double Macaw Cage)

Kings ELT 6432 (Economy Line Extra Large Bird Cage)

All other similar cages 64 inches wide and 32 inches deep
Shipping Details:
Ships in 1-2 business days.
Free Shipping! Usually via FedEx.
---
We Also Recommend