A&E Cage Co. 24"x22" Triple Stack Breeder Cage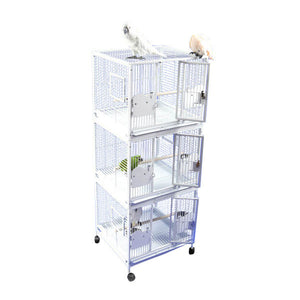 A&E Cage Co. 24"x22" Triple Stack Breeder Cage
The 24"x22" Triple Stack Flight Cage is ideal for Parakeets, Small Conures and other similarly-sized birds.
---
Product Highlights:
Bird proof front door & feeder door key locks
Horizontal side bars
Vertical bars front & back
Slide-out grill & tray
3 wooden perches
6 stainless steel feeder bowls
3 large front doors for easy access
3 breeder doors
4 easy rolling casters
---
Summary:
For those in need of some extra space with multiple birds, this Triple Stack is the perfect cage for you. This model brings all the excellent benefits of a standard cage with triple the real estate! You'll get all the features that dedicated bird lovers and breeders need, including benefits for both you and your feathered friends. With three-quarter inch bar spacing, this model is perfect for many different species of smaller birds, as they won't be able to escape through the small gaps. The four-millimeter gauge bars are also sturdy and durable providing for long-lasting enjoyment.
Your birds will love the ample space provided in each section and the wood perches included for climbing on. There is a total of six separate feeder stations to allow for fight-free feeding times. The vertical bars are complimented by spaced out horizontal bars to allow for easy climbing. Entry and exit are also made easy by the large front entry doors which provide for easy placement and removal from the enclosure. Cleaning up after them will also be nearly effortless, with the slide-out trays in each section giving you easy access for waste removal.
Your needs were also carefully considered in the design of this excellent value cage. The unit also includes four easy rolling coasters, one attached to each leg, to elicit effortless rolling from room to room. Periodically changing your bird's complete environment by moving their enclosure between rooms is vital to their mental health and well-being.
---
Key Specifications:

Bar Spacing: 3/4"
Bar Gauge: 4.0 mm
Cage Weight: 123 lbs.
Internal Dimensions:
24"(W) x 22"(D) x 21"(H) (per section)
External Dimensions:
24"(W) x 22"(D) x 72"(H) (all 3 sections including base)

Technical Details:

Brand name: A.E. Cages
Warranty: 90 days
Shipping cost: Free standard shipping within mainland USA. Additional shipping costs will apply for shipments outside mainland USA.
Shipping time: Typically standard shipping will get your product to you within a week.
Packages: 3
Slide-out grate: 1
Slide-out tray: 1
Feeder Stations: 6
Feeder cups: 6
Breeder doors: 3
Perches: 3
Finish: Powder-coating
SKU#: 2422-3
---
Available in these beautiful colors:
| | |
| --- | --- |
| | |
| Platinum | Black |
---
Shipping Details:
Allow 2 days for processing.
Ships UPS.
---
We Also Recommend