A&E Cage Co. Small Java Wood Table Top Play Stand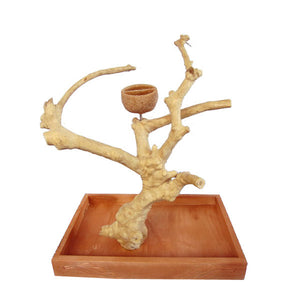 A&E Cage Co. Small Java Wood Table Top Play Stand
The 15"x10"x15" Small Java Wood Table Top Play Stand is ideal for Canaries, Finches, Cockatiels, Parakeets, Small Conures and other similarly-sized birds. Though larger parrots are fans of it too!
---
Product Highlights:
A true combination of nature and craftsmanship.
Stand is perfect for your coffee table or similar flat areas in your home.
Includes one divided feeder bowl, made from resin. The bowl can be unscrewed to remove it for cleaning and refilling.
NOTE: Each stand is hand-crafted and unique, so yours will vary slightly from the picture shown.
---
Summary:
All birds like to get out and roam around, but you don't have to settle for littering your home with bulky or unappealing stands. This tabletop play stand provides a classy design and a functional area for your small feathered friend to explore.
The base is constructed with stained Kamper wood from Kalimantan, and the actual stand is crafted from Java Wood. The divided feeder bowl allows a convenient place to put out both food and water for your beloved pet.
A&E Java Wood takes pride in making unique products from non-productive coffee trees, using natural, renewable, recycled, and earth-friendly materials.
PLEASE NOTE:

Java Wood Play Stands are natural products made from retired coffee trees. No two trees will be the same, and with this in mind, we must inform you that the dimensions provided are the best estimates we can advise. The tree you receive may have dimensions that vary depending on the tree but meet the size parameters set by the Manufacturer for that specific size group. Thank you for your understanding.
---
Key Specifications:

Weight: 8 lbs.
External Dimensions:
15"(W) x 10"(D) x 15"(H)

Technical Details:

Brand name: A.E. Cages
Warranty: 90 days
Shipping cost: Free standard shipping within mainland USA. Additional shipping costs will apply for shipments outside mainland USA.
Shipping time: Typically standard shipping will get your product to you within a week.
Packages: 1
Feeder cups: 1
SKU#: AE500S
---
Shipping Details:
Allow 2 days for processing.
Typically ships UPS.
---
We Also Recommend