A&E Bird Cage Replacement Caster Wheels (Set of 4)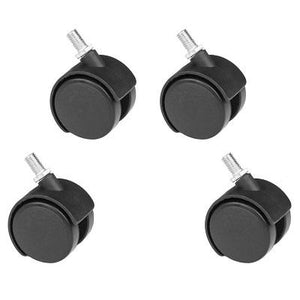 A&E Bird Cage Replacement Caster Wheels (Set of 4)
These Replacement Caster Wheel Sets are ideal for all A&E Bird Cages. 
---
Product Highlights:
Replaces original caster wheels on A&E cages

Easily mounts on the bottom of the cage frame
---
Summary:
These Replacement Wheels can comfortably mount on to the bottom of all A&E Bird Cages.
***If you're unsure which size you need, just put a note when placing the order with the cage model you have and we will send you the appropriate size for your cage.
---
Key Specifications:

Weight: 0.35 lb
Includes: 4 x Wheels
Color: Black

Small: 1.5" Diameter
Medium: 2" Diameter
Large: 3" Diameter

Technical Details:

Warranty: 90 days
Shipping cost: Free standard shipping within mainland USA. Additional shipping costs will apply for shipments outside mainland USA.
Shipping time: Typically standard shipping will get your product to you within a week.
Packages: 1
---
Shipping Details:
Allow 2 days for processing.
Usually ships USPS or UPS.