Prevue Hendryx Signature Series Playtop Large Bird Cage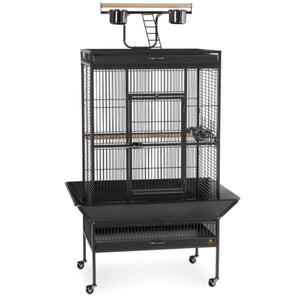 Prevue Hendryx Signature Series Playtop Large Bird Cage
The Prevue Hendryx Signature Series Large Bird Cage is ideal for Conures, Senegals and similarly-sized parrots.
---
Product Highlights:
Push-button front door lock & additional safety latch
Playtop with ladder, perch, and stainless steel feeder cups
Horizontal and vertical cage bars for lots of climbing
Multiple swing out feeder doors
2 playtop feed cups and 2 internal feed cups
Pull-out top and bottom drawers and pull-out bottom grill
Non-toxic, durable, and safe powder-coated finish
---
Summary:
Provide sizable birds with space they need by selecting the wrought iron Signature Series Large Bird Cage from Prevue Hendryx, one of the oldest manufacturers of quality pet cages and accessories.
Sleek and stylish - features include top and bottom pull-out drawers, four stainless steel cups, bottom pull-out grille, rounded seed guards, top playpen, two wooden perches, and a durable cage stand featuring casters for optimal movement from room to room.
This wonderful enclosure is available in five great colors.
The cage also includes a heavy-duty push button lock for total pet safety, meaning birds can't get out and predator pets can't get in. Depending on the model, your birds will enjoy either hoop or flat bar ladders.
Optimal species for this cage include African Grey, Amazon, Aracari, Caique, Cockatiel, Conure, Eclectus, Pionus and Rosella. Provide your birds with space they want with this stylish option!
The cage is capable of accommodating up to three birds, and does not include a storage shelf or a divider.
---
Key Specifications:

Bar Spacing: 3/4"
Cage Weight: 91.6 lbs
Cage Dimensions:
29.5"(W) x 21.5"(D) x 36"(H)
Overall Dimensions:
38.5"(W) x 30.5"(D) x 63"(H)
Perch: 1" Diameter

*Included seed skirt adds
approximately 4" to each side

Technical Details:

Brand name: Prevue Hendryx
Warranty: 90 days
Shipping cost: Free standard shipping within mainland USA.
Shipping time: Typically standard shipping will get your product to you in a week.
Packages: 2
Bird Capacity: 3
Slide-out grate: 1
Slide-out tray: 2 (top & bottom)
Feeder doors: 2
Stainless Steel Food Bowls: 4
Perches: 2
Finish: Powder-coating
SKU#: PVP1051
---
Shipping Details:
This product ships for free!
Allow 2 busines days for processing and 1 week for delivery.
---
We Also Recommend