A&E Cage Co. 40"x30" Stainless Steel Imperial Play Top Bird Cage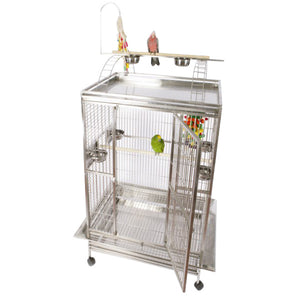 A&E Cage Co. 40"x30" Stainless Steel Imperial Play Top Bird Cage
The 40"x30" Imperial Play Top Cage in Stainless Steel is ideal for African Greys, Amazons, Mini & Large Macaws, Small & Large Cockatoos.
---
Product Highlights:
304 Medical Grade Stainless Steel is tested safe and completely non-toxic to your bird!
Large Front door for easy access.
Bird proof front door and feeder door locks.
1 wood perch and 4 swing out feeder doors.
4 Stainless Steel feeder cups inside feeder stations.
Features vertical bars on the front and back, and horizontal bars on the sides.
Features a slide-out grill and tray for quick and easy waste removal.
Play top with 2 ladders, perch and toy hook.
2 Stainless Steel feeder cups in the play top.
Slide out tray underneath playpen keeping cage mess free.
Cage sits on easy-glide non-marking casters for simple movement from room to room.
Removable seed catcher.
---
Summary:
The benefits of a play top cage are undeniable, and this wonderful cage puts them all on full display. You will delight in every feature that is packed into the marvelous Stainless Steel Imperial Bird Cage. The enormous play area that is attached to the top of the enclosure makes this a fantastic two-for-one bargain. Most bird owners have to invest in a separate play station for their pet, but not you. By investing in this top-quality enclosure, you'll actually end up saving money. The 304-grade metal material with five-gauge bars is ultra-durable and built to last. While other bird owners may end up going through multiple cages over the life of their pet, this model has the ability to last for their entire life. Only with stainless steel can you get the kind of deep clean that comes with a pressure washing. The metal also easily wipes down and is rust resistant.
The play area on top of the cage is complete with a variety of structures for the maximum entertainment of your feathered friend. Experts agree that letting them spend plenty of time outside of their enclosure is absolutely critical to their mental, emotional, and physical well being. You will be amazed at the completely positive turn in personality that can result from spending more time playing. The top includes two curved ladder-like surfaces, a perch, feeding stations, and an upright toy hanger. You can vary the toys that your pet gets to play with as often as you like by using the hook. Both the play area and the main section of the cage have their own slide-out trays for easy waste removal, making your life even easier.
The large front entry door is a vital component in any great unit; it allows for safe transport in and out of the enclosure in order to limit the injury potential to your pet. The independently opening feeder doors were designed to allow you to refill their dishes without having to twist or contort your body into the cage itself. Check out the product highlights section for a full list of the features built into this wonderful model.
---
Key Specifications:

Bar Spacing: 1"
Bar Gauge: 5.0 mm
Cage weight: 173 lbs
Internal Dimensions:
40"(W) x 30"(D) x 47"(H)
External Dimensions:
40"(W) x 30"(D) x 75"(H)

*Included seed skirt adds
approximately 4" to each side

Technical Details:

Brand name: A.E. Cages
Warranty: 90 days
Shipping cost: This cage ships freight. Please note that additional shipping costs apply for shipments outside the mainland USA and for freight shipments.
Shipping time: Freight shipping will get your product to you within 1-2 weeks.
Packages: 3
Slide-out grate: 1
Slide-out tray: 1
Feeder doors: 4
Feeder cups: 6 (2 in the playpen)
Breeder doors: 0
Perches: 1
Finish: 304 Medical Grade Stainless Steel
SKU#: 8004030 Stainless Steel
---
Shipping Details:
Allow 2 business days for processing.
Ships freight. Please allow 1-2 weeks for delivery.
Extra charges apply for freight shipments.
---
We Also Recommend