A&E Cage Co. 32"x21"x61" Elegant Flight Cage with Opening Top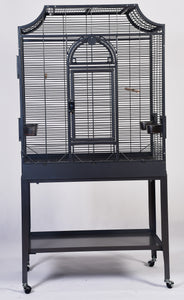 A&E Cage Co. 32"x21"x61" Elegant Flight Cage with Opening Top
The 32"x 21" x 61" Elegant Flight Cage with Opening Top is ideal for Cockatiels, Love Birds, Conures, and Lorries.
---
Product Highlights:
Open top elegant style flight cage
Vertical bars
Slide-out metal grill & metal waste tray
1 perch

4 drop-down feeder doors with stainless steel feeder cups

Drop-down drawbridge-style door above the front door
1 large front door for easy access with a bird-safe door lock
Breeder box door
4 easy rolling casters
1/2" bar spacing
2mm bar diameter
Bottom shelf for storage
Non-toxic, durable and safe powder-coated finish
---
Summary:
Keep your bird happy and healthy with this Elegant Flight Cage with Opening Top from A&E Cage Co. The cage features a stylish look that makes it an excellent addition to any space, including a large front door and a drop-down drawbridge-style door on top for ease of maintenance while giving your feathered friend accessible areas to perch and move around.

The cage's play-top design allows your bird to stretch their wings comfortably outside the cage, featuring a 1/2" bar spacing and horizontal 2mm bar diameter for birds no larger than conures.

It includes a breeder box door with different feeder door options, stainless steel bowls, a detachable metal waste tray and grate, and a bottom shelf for additional storage. This flight cage is the perfect home for your Cockatiels, Love Birds, Conures, and Lorries.
---
Key Specifications:

Bar Spacing:

 

1/2"
Bar Gauge:

 2

 mm
Cage Weight:

 60

 lbs.
Interior Height: 31"

External Dimensions:
32"(W) x 21"(D) x 61"(H)

Technical Details:

Brand name:

 

A.E. Cages
Warranty:

 

90 days
Shipping cost:

 

Additional shipping costs will apply for shipments outside the mainland USA and freight shipments.
Shipping time:

 

Typically standard shipping will get your product to you within a week.
Slide-out grate:

 

1
Slide-out tray:

 

1
Feeder doors:

 4

Feeder cups:

 4

Breeder doors:

 

1
Perches:

 1

Finish:

 

Powder-coating
SKU#:

MA3221FL ALT

Shipping Details:
Allow 2 days for processing.
Ships UPS.
Extra charges apply for freight shipments.
---
We Also Recommend