A&E Cage Co. 64"x21" Double Stack Flight Cage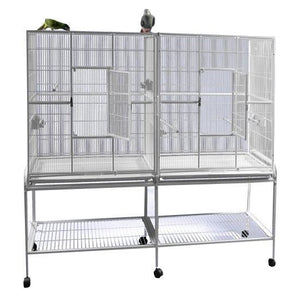 A&E Cage Co. 64"x21" Double Stack Flight Cage
The 64"x21" Forte Duplex Double Flight Cage with Divider is ideal for Budgies, Canaries, Finches, Cockatiels, Small Parakeets, Conures, Quakers and other same sized birds.
---
Product Highlights:
Bird proof front door locks
Stand included
Slide-out metal grill & Plastic tray
Vertical bars
Removable divider
4 wood perches
2 large front doors for easy access
4 plastic feeder stations
2 breeder box doors
4 easy rolling casters
Bottom shelf for storage
Non-toxic, durable and safe powder coated finish
---
Summary:
The 64"x21" Forte Duplex cage is one of the most popular double size cages that we offer. The versatility of this amazing cage has made it an undeniable favorite for owners of a variety of species. The divider has cleverly been designed to be removable, allowing for extra space on demand. Designed with one-half inch bar spacing, this spacious unit is perfect for a large variety of bird species, including many of the most popular small to medium sized pets. And with three-millimeter bar gauging, you can be confident that this cage is built to last.
Your pet's needs were carefully thought about in the design of this cage. With four fabulous perches and plenty of climbing room on top of the cage, this model is a bird's paradise. The large front access doors were designed to limit potential injuries that sometimes occur with other cages when entering or exiting the cage. It is important to provide ample room for placing or removing your pet, and the Forte Duplex was thoughtfully crafted to give you this. Because this enclosure is clearly meant for multiple feathered friends, it was also adorned with plenty of feeder stations for pain-free feeding times, with four total stations included.
Designing a bird enclosure isn't just about the birds- A&E understands that it's equally important to make your life as a pet owner as easy as possible. That is why the Forte is complimented with slide-out metal grills and plastic trays for virtually effortless cleaning times and waste removal. The stand is included and has built-in bottom storage shelves for conveniently storing all your supplies. You also have several amazing color options to choose from to perfectly match any room in your home, including green, sandstone, platinum, black, and white. All coloring is made from a completely non-toxic, tested to be safe powder-coat material.
---
Key Specifications:

Bar Spacing: 1/2"
Bar Gauge: 3.0 mm
Cage Weight: 102 lbs.
Internal Dimensions:
32"(W) x 21"(D) x 34"(H)
External Dimensions:
64"(W) x 21"(D) x 65"(H)

Technical Details:

Brand name: A.E. Cages
Warranty: 90 days
Shipping cost: Free standard shipping within mainland USA. Additional shipping costs will apply for shipments outside mainland USA.
Shipping time: Typically standard shipping will get your product to you within a week.
Packages: 2
Slide-out grate: 1
Slide-out tray: 1
Feeder doors: 2
Feeder cups: 4
Breeder doors: 0
Perches: 4
Finish: Powder-coating
SKU#: 6421
---
Available in these beautiful colors:
| | | | |
| --- | --- | --- | --- |
| | | | |
| Sandstone | Platinum | Black | Pure White |
---
Shipping Details:
Allow 2 days for processing.
Ships UPS.
---
We Also Recommend