A&E Cage Co. 48"x36" Stainless Steel Mondo Dome Top Bird Cage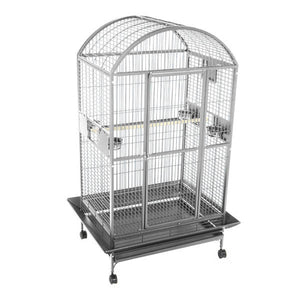 A&E Cage Co. 48"x36" Stainless Steel Mondo Dome Top Bird Cage
The 48"x36" Mondo Dome Top Cage in Stainless Steel is ideal for Mini Macaws, Small Cockatoos, African Greys, Amazons, Large Cockatoos, Large Macaws.
---
Product Highlights:
304 Medical Grade Stainless Steel is tested safe and completely non-toxic to your bird!
Large Front door for easy access.
Bird-proof front door and feeder door locks.
Breeder door for breeder box attachment.
1 wooden perch and 4 feeder stations.
4 Stainless Steel feeder cups.
Features vertical bars on the front and back, and horizontal bars on the sides.
Features a slide-out grill and tray for quick and easy waste removal.
The cage sits on easy glide non-marking casters for simple movement from room to room.
Removable seed catcher.
Also available in different beautiful colors in wrought iron with powder-coating finish
---
Summary:
The Stainless Steel Mondo Dome Top Cage is a towering masterpiece that perfectly demonstrates the true love that bird keepers have for their pets. By investing in this top-quality model, you will simultaneously give your bird the quality life it deserves and save money simultaneously. Birds can live for decades, and by making a one-time investment in the Mondo, made from durable 304-grade medical quality stainless steel, you will save yourself from having to buy multiple replacement cages over the life of your pet. This steel is rust-resistant, easy to wipe down, and sturdy enough to withstand pressure washing for deep cleaning. The bars are at least five-millimeter gauging in order to withstand climbing by even the most playful or destructive bird personalities.
Choosing a domed top cage has two distinct advantages. The internal living space is made decisively bigger, and in this model, it includes five full feet of height, four feet of width, and three feet of depth. This cage has abundant space for medium and large-sized species and even the ability to keep multiple birds. The dome also acts as a wonderful climbing surface when you let them out for their all-important playtime. The bars are carefully placed in a ladder-like fashion atop the dome.
Your bird also gets plenty of amenities during the inside time. The strategically designed horizontally and vertically oriented bars allow for various climbing opportunities, along with a large wood perch for resting. There are four separate feeder stations, each with its own stainless steel feeder cup and solid-backed doors to limit seed spilling. The main section of the cage was conveniently designed with a slide-out grate and tray for super easy cleaning and waste removal. The removable seed skirt continues to enhance the mess-preventing capabilities of this model. Take a look through the "Product Highlights" section for a full list of the features that have been packed into every inch of this marvelous cage. As always, if you have any questions about making the perfect choice, call or "Live Chat" with any of our friendly team members for professional one-on-one assistance anytime!
---
Key Specifications:

Bar Spacing: 1"
Bar Gauge: 5.0 mm
Cage Weight: 216 lbs.
Internal Dimensions:
48"(W) x 36"(D) x 60"(H)
External Dimensions:
48"(W) x 36"(D) x 76"(H)

*Included seed skirt adds
approximately 4" to each side

Technical Details:

Brand name: A&E Cages
Warranty: 90 days
Shipping cost: This cage ships freight. Please note that additional shipping costs apply for shipments outside the mainland USA and for freight shipments.
Shipping time: Freight shipping will get your product to you within 1-2 weeks.
Packages: 3
Slide-out grate: 1
Slide-out tray: 1
Feeder doors: 4
Feeder cups: 4
Breeder doors: 1
Perches: 1
Finish: 304 Medical Grade Stainless Steel
SKU#: 9004836 Stainless Steel
---
Shipping Details:
Allow 2 days for processing.
Ships freight.
Extra charges apply for freight shipments.
---
We Also Recommend