A&E Cage Co. 48"x36" Mondo Dome Top Bird Cage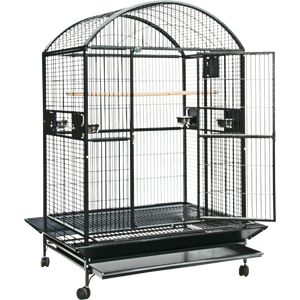 A&E Cage Co. 48"x36" Mondo Dome Top Bird Cage
The 48"x36" Mondo Dome Top Bird Cage is ideal for African Greys, Amazons, Small & Large Cockatoos, Mini & Large Macaws.
---
Product Highlights:
Birdproof front door & feeder door locks
Horizontal side bars, vertical bars front & back
4 swing-out feeder doors & additional breeder box door
4 stainless steel feeder cups & 1 perch
Large front door for easy access
Removable seed catcher
Slide-out grill & tray for easy cleaning
4 easy rolling casters
Non-toxic, durable, and safe powder-coated finish
---
Summary:
The Mondo Dome Top Cage is one of the biggest and best in-home bird enclosures on the market today. It truly is, "Mondo", as the name suggests, towering at more than six feet tall, four feet wide, and three feet deep. Your birds will be living a life of total luxury when you bring home this amazing habitat for them. With carefully measured one-inch bar spacing and durable five-millimeter bar gauge materials, this cage is ideal for medium and large-size birds alike. With the immense internal dimensions that the Mondo Dome Top provides, owners of multiple birds will have no problem housing them in the same space.
This enormous cage has all kinds of climbing rooms for your feathered friends. It was specifically designed to have horizontal bars on two sides for ladder-like climbing. The same sides are equipped with four total feeder stations, each independently opening for quick and easy food refills. But don't worry, all the feeder doors and the extra large front access door include birdproof locks for safe keeping.
The gigantic dome top also makes for a perfect climbing surface while your bird is out of its cage. The curved shape and closely placed bars are excellent for perching and playing on. Keeping your bird's mind stimulated by changing its environment is also very simple- just roll the cage into new places by taking advantage of the easy-rolling casters affixed to each foot.
With the slide-out grill, slide-out tray, and removable seed catcher, keeping this enclosure clean couldn't possibly get any easier. Each feeder door is also solid-backed to prevent excessive seed throwing. We know that you want to keep your place looking classy, so this cage is available in a fantastic array of elegant color choices, including sandstone, white, black, and platinum. Each color was chosen to complement a wide variety of interior decorating styles so that your cage will still be able to match perfectly as your home changes from year to year.
---
Key Specifications:

Bar Spacing: 1"
Bar Gauge: 5.0 mm
Cage Weight: 216 lbs.
Internal Dimensions:
48"(W) x 36"(D) x 60"(H)
External Dimensions:
48"(W) x 36"(D) x 76"(H)

Technical Details:

Brand name: A.E. Cages
Warranty: 90 days
Shipping cost: This cage ships freight. Please note that additional shipping costs apply for shipments outside the mainland USA and for freight shipments.
Shipping time: Freight shipping will get your product to you within 1-2 weeks.
Packages: 3
Slide-out grate: 1
Slide-out tray: 1
Feeder doors: 4
Feeder cups: 4
Breeder doors: 1
Perches: 1
Finish: Powder-coating
SKU#: 9004836
---
Available in these beautiful colors:
| | |
| --- | --- |
| | |
| Platinum | Black |
---
Shipping Details:
Allow business 2 days for processing.
Ships freight, which can take 1-2 weeks after ordering to arrive at your residence.
Extra charges apply for freight shipments.
---
We Also Recommend