A&E Cage Co. 26"x25" Parrot Play Stand with Ladders and Toy Hooks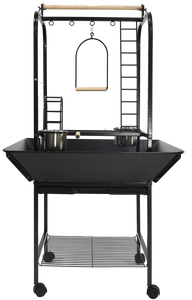 A&E Cage Co. 26"x25" Parrot Play Stand with Ladders and Toy Hooks
The 26"x25" Parrot Play Stand with Ladders and Toy Hooks is ideal for smaller parrots and most small to medium-sized birds.
---
Product Highlights:
4 Eyelets across the Play Stand for toy/treat placement options
Optional toy hook bar for above perch area with 5 toy hook eyelets
Detachable Seedgaurds
1 vertical ladder & 1 arched ladder
2 stainless steel feeder cups with 2 feeder perches near feeder cups for easy access to food and water
1 Swing with a wooden perch & 1 perch for the top portion of the playstand
Bottom Shelf for storage
Slide-out tray for easy cleaning
4 easy rolling casters
---
Summary:
This interactive stand will give your feathered friends all the fun they deserve by encouraging them to play and exercise. It has four eyelets for conveniently placing your bird's toys or treats and an optional toy hook bar above the perch area.

The product features a vertical ladder and an arched ladder, one swing with a wooden perch, and another perch for the top portion of the play stand for more playing fun and engagement.

While the detachable seed guards and two stainless steel feeder cups with two feeder perches provide easy access to food and water, the slide-out tray makes cleaning a breeze.
---
Key Specifications:

Weight: 18 lbs.
External Dimensions:
26"(W) x 25"(D) x 56"(H)

Technical Details:

Brand name: A&E Cage Co.
Shipping cost: Free standard shipping within the mainland USA. Additional shipping costs will apply for freight and shipments outside the mainland USA.
Shipping time: Typically standard shipping will get your product to you within a week.
Packages: 1
Feeder cups: 2
SKU#: J2625
---
Shipping Details:
Allow 2 days for processing.
Usually ships UPS.
---
We Also Recommend