A&E Cage Co. 32" Large Corner Cage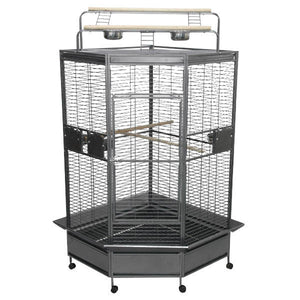 A&E Cage Co. 32" Large Corner Cage
The 32" Large Hideaway Corner Cage is ideal for Conures, Quakers, Small Cockatoos, Mini Macaws, Jardines, African Greys, Amazons, Large Cockatoos, Large Macaws and other same sized birds.
---
Product Highlights:
Bird proof front door & feeder door locks
Playpen top with 3 ladders & 2 perches
2 lock in cups on playpen top
Slide out metal tray underneath play top keeping cage mess free
Horizontal side bars, vertical bars front & back
3 swing out feeder doors
3 stainless steel feeder cups & 2 perches
Slide-out grill & tray for easy cleaning
Non-toxic, durable and safe powder coated finish
---
Summary:
The Large Corner Hideaway cage, designed by A&E, is nothing short of statuesque. Owners of this cage clearly love their pets, understand exactly how important a quality enclosure is, and want to give them the best. Having a home with plenty of space to climb and play is vital to the physical and mental health of birds. This model was carefully designed to tend to the needs of both your bird and you as the owner. With abundant internal room, one-inch bar spacing, and strong four-millimeter bar gauging, this unit is ideal for medium to large sized species like Greys, Amazons, Cockatoos, Macaws, and similarly sized species.
This smartly designed home has been showered with features to thrill your bird. The inside has been given multiple perches tall sides with horizontally oriented bars, perfect for climbing. During playtimes, just open up the large front door and let your bird roam free all over the outside of the cage. The horizontal bars still provide for ample climbing space and the top of the cage has been given a wonderful array of perches, ladders, and feeding stations for added enjoyment. The easy-glide casters attached to each leg also allow you to effortless provide a complete change of scenery by rolling the entire unit between rooms.
As a bird owner, you will truly appreciate just how easy this cage makes your life. With bird proof locks on the front door and feeder doors, you won't have to worry about a surprise escape. Feeding time is a breeze with the individually opening feeder doors that allow you to replace food and water without having to stretch into the enclosure. Cleaning time has also never been more simple than with the slide-out grill and slide-out tray for easy cleaning and the removal of waste. The elegant sandstone, platinum, and black colors are all made from 100% non-toxic material that has been thoroughly tested for safety. Should you have any questions about the perfect model for you and your pet's needs, please call or Live Chat with one of our knowledgeable and friendly staff members today!
---
Key Specifications:

Bar Spacing: 1"
Bar Gauge: 4.0 mm
Cage Weight: 110 lbs.
Internal Dimensions:
33"(W) x 33"(D) x 45"(H)
External Dimensions:
33"(W) x 33"(D) x 72"(H)

Technical Details:

Brand name: A.E. Cages
Warranty: 90 days
Shipping cost: Free standard shipping within mainland USA. Additional shipping costs will apply for shipments outside mainland USA.
Shipping time: Typically standard shipping will get your product to you within a week.
Packages: 2
Slide-out grate: 1
Slide-out tray: 1
Feeder doors: 3
Feeder cups: 3 stainless steel cups
Breeder doors: 0
Perches: 2
Finish: Powder-coating
SKU#: CC3232
---
Available in these beautiful colors:
| | |
| --- | --- |
| | |
| Platinum | Black |
---
Shipping Details:
Allow 2 business days for processing and 1-2 weeks for delivery.
Ships via freight.
---
We Also Recommend