A&E Cage Co. 31"x20" Flight Cage & Stand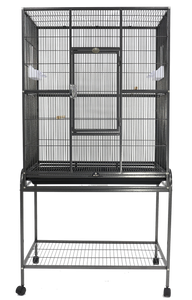 A&E Cage Co. 31"x20" Flight Cage & Stand
The 31"x20" Flight Cage & Stand is best suited for small to medium-sized birds (no larger than small conures,) like finches, canaries, parakeets, and cockatiels.
---
Product Highlights:
Economy Flight Cage
2 Perches
2 Plastic Feeder Cups
Bottom Shelf for Storage
Vertical Bars
1 Large Front Door with Door Lock
Slide-out Grill & Black Plastic Tray
4 Easy Rolling Casters
2 Slide-Up Feeder Doors
Non-toxic, durable, and safe powder-coated finish
---
Summary:
Are you looking for a well-suited cage for your feathered friend?

The 31"x20" Flight Cage comes in various colors and has a powder-coated finish to keep it rust-free and protect your bird from potential metal hazards. The thoughtful construction of this birdcage has your bird's comfort, security, and enjoyment in mind. Its bar spacing size ensures more security, with two perches allowing your bird to relax and stand when not flying, and plastic feeder cups for water and seeds.

It also features a bottom shelf as an additional storage space for extra toys, food, and other cage accessories; the vertical bars minimize the possibility of wings getting caught between them, thus reducing injury risk to very active birds. Its secured sizable front door with a lock provides easy access while keeping your bird safe inside the cage, even when you're not around.

Meanwhile, the slide-out grill and tray enhance user experience; it makes cleanup easier and keeps the cage interior well-maintained. The easy-rolling casters improve mobility, allowing you to move the cage throughout your home easily; using the slide-up feeder doors, you can refill fresh food or water and clean the cage without your bird flying out.

This flight cage from A&E may be the best option for creating a better environment where your feathered friend can play and relax.

---
Key Specifications:

Bar Spacing:

 

1/2"
Bar Gauge:

 2

 mm
Cage Weight:

 50

 lbs.
Interior Height: 38"

External Dimensions:
31"(W) x 20"(D) x 60"(H)

Technical Details:

Brand name:

 

A.E. Cages
Warranty:

 

90 days
Shipping cost:

 

Free standard shipping within the mainland USA. Additional shipping costs will apply for shipments outside the mainland USA and for freight shipments.
Shipping time:

 

Typically standard shipping will get your product to you within a week.
Slide-out grate:

 

1
Slide-out tray:

 

1
Feeder doors:

 

2
Feeder stations:

 

2
Perches:

 

2

Rolling casters: 4

Finish:

 

Powder-coating
SKU#:

13120
---
We Also Recommend