Avian Adventures Recreation Center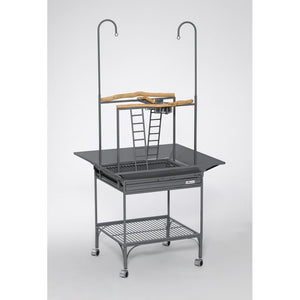 Avian Adventures Recreation Center
Bird Species:
This model is ideal for medium to large sized parrots, including Cockatiels, Conures, African Greys, Macaws, and more...
---
Product Highlights:
Thoroughly tested powder-coating is safe and completely non-toxic for your bird!
Platinum & Pearl White textured color finishes available.
No bolts or screws required! Interlocking panels are quick and easy to assemble.
Genuine 304-grade stainless steel and dishwasher safe bird feeder bowls included.
Included perches are made from round wood dowels.
Creatively designed with two (removable) toy hooks, three perches, and two ladders for fun climbing.
Slide-out metal grate lets you clean the cages quickly and easily.
Slide-out metal tray makes for quick and easy removal of waste.
Seed skirt (included) can be easily removed without a need for tools.
Cage sits on casters that are easy glide, non-marking, and allow for easy movement.
**NOTE**

:
 As of Dec 2018, all Avian Adventures cages are shipped with a wood dowel perch instead of the yellow cow wood perch shown in the product images. We will update the photos to reflect the change once we have them.
---
Summary:
The Recreation Center from Avian Adventures is the ultimate in quality and entertainment for your medium to large bird. This playstand has been packed full of fun features for your bird and designed with elegance, style, and functionality above all else. Being a bird owner, you know the importance of having key features to make your life easier, such as slide out trays and grates for easy cleaning.
This playstand is built to last, designed with strong steel bars, and eliminating parts that easily deteriorate like bolts and screws. The powder-coated finishing has been thoroughly tested to be completely non-toxic for birds and will give you several elegant colors to choose from to compliment your in-home design.
Your bird will also fall in love with this stand from the moment it arrives. Between the multiple wood perches, removable toy hooks, and ladders - perfect for climbing - this unit is packed with everything they will need to stay happy. Not to mention the bottom storage shelf to keep extra goodies nearby.
---
Key Specifications:

Weight: 55 lbs
Overall Dimensions (including seed skirt):
22"(W) x 24"(D) x 48"(H)
Total Height (with toy hooks):
67"(H)

 

Technical Details:

Brand name: Avian Adventures
Warranty: 1 year
Shipping cost: Free standard shipping within mainland USA. Additional shipping costs will apply for shipments outside mainland USA.
Shipping time: Typically standard shipping will get your product to you within a week.
Packages: 2
Slide-out grate: 1
Slide-out tray: 1
Perches: 3
Ladders: 2
Toy Hooks: 2
Finish: Powder-coating
SKU: AVD1021
---
Available in these beautiful colors:
| | |
| --- | --- |
| | |
| Platinum | Pearl White |
---
Shipping Details:
Allow 2 business days for processing and 1 week for delivery.
Ships for free! Typically via FedEx or UPS.
---
We Also Recommend