Happy Beaks Medium Ball Thing Java Wood Toy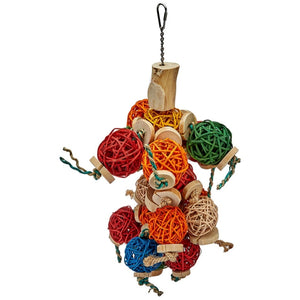 Happy Beaks Medium Ball Thing Java Wood Toy
The Medium Ball Thing Java Wood Toy is ideal for Conures, African Greys, Cockatiels, Macaws, and other similarly-sized birds.
---
Product Highlights:
Multicolored Java wood toy with sisal rope and round wicker balls
Easily clips to the top of any cage
Durable wooden construction
---
Summary:
Hung from an inner chain, this toy is covered with colorful wicker balls and Java wood chunks, all knotted together with natural fibers. Your parrot can't wait to get their beak on it!
Recommended for medium- to large- sized birds and parrots, this toy quickly and securely clips to the top of any cage. The Java wood material is bird safe and durable.

In case you still have any doubts about it, this toy won Best Bird Product at the 2010/2011 world renown SuperZoo trade show!
A&E Java Wood takes pride in making unique products from non-productive coffee trees, using natural, renewable, recycled and earth-friendly materials.
Note: Actual color may vary from images shown.
---
Key Specifications:

Weight: 2 lb.
External Dimensions:
Approx. 17" Length x 9" Width

Technical Details:

Brand name: A.E. Cages
Warranty: 90 days
Shipping cost: Free standard shipping within mainland USA. Additional shipping costs will apply for shipments outside mainland USA.
Shipping time: Typically standard shipping will get your product to you within a week.
Packages: 1
SKU#: HB46520
---
Shipping Details:
Allow 2 days for processing.
Usually ships UPS.
---
We Also Recommend