Happy Beaks Small Rainbow Cotton Rope Boing with Bell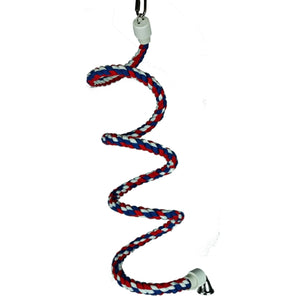 Happy Beaks Small Rainbow Cotton Rope Boing with Bell
The Small Cotton Rope Boing with Bell is ideal for Budgies, Canaries, Finches, Lovebirds, and other similarly-sized birds.
---
Product Highlights:
Durable cotton rope wrapped around flexible metal
Bell attached to bottom of the rope
Easily clips to the top of any cage
---
Summary:
This rope toy can be stretched out longer or bunched up shorter to fit different height cages. It is a fairly springy toy, which will emulate smaller tree branches for your feathered friend.
Recommended for small-sized birds and parrots, this toy quickly and securely clips to the top of any cage. The cotton material is bird safe and durable. Buy two so you can swap them out when you are cleaning the other one!

Note: Actual color may vary from images shown.
---
Key Specifications:

Weight: 0.4 lb.
External Dimensions:
52" Length x 1/2" Diameter (Hanging height is adjustable depending on the height of the cage)

Technical Details:

Brand name: A.E. Cages
Warranty: 90 days
Shipping cost: Free standard shipping within mainland USA. Additional shipping costs will apply for shipments outside mainland USA.
Shipping time: Typically standard shipping will get your product to you within a week.
Packages: 1
SKU#: HB551
---
Shipping Details:
Free shipping!
Allow 2 days for processing.
Usually ships UPS.
---
We Also Recommend